The Pat Boone Show
Click to listen to the Pat Boone radio show:
For 35 years, The Pat Boone Show has innovated and set the standard for syndicated contemporary Christian radio. Boone's show, a creative blend of music and talk, has won numerous awards including the prestigious NRB Program of the Year Award, and Seven Angel Awards.
Each week Pat Boone is heard worldwide on over 50 radio stations. Many stations air the show a second and even a third time during the broadcast week adding many more listeners for our advertisers. Our secular stations air the show on Sunday mornings, adding another unduplicated audience of Christians (not reached by the average Christian radio station) for The Pat Boone Show.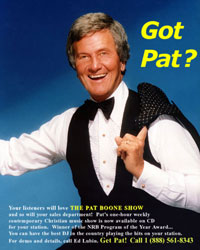 For information on how your Radio Station can air this program contact: Edward Lubin/Edward Lubin Productions at edwardlubin1@gmail.com